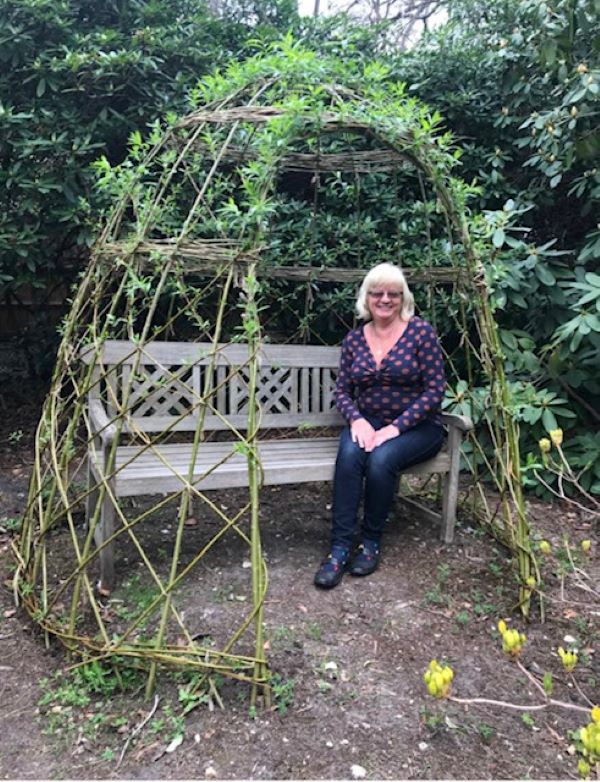 Don't fear the new, embrace it
'Be Cautious, Be Calm, Be Kind' a poster reads on the outskirts of Guildford as one is welcomed into the town, stoic advice as life has returned to relative normal. The regulations have now gone and we, some boldly, some far more tentatively, emerge.
For many it has been some considerable time since they have stepped beyond their garden gate, gone into a shop, a pub, eaten a meal out, and had family or friends in the house and to stay. For me it was eight long, painful months that I was prevented by Covid from seeing my daughter and her family.
I wish you all well on your journey to freedom, whatever form it takes. I am sure that your WI will be instrumental in facilitating this journey.
As WIs return to face-to-face meetings there will inevitably be caution and hesitancy. Some WIs are also greatly  concerned by reduced membership numbers and income. Will renewal cover the basic costs? Where can a new venue be found when evicted, or room costs have become too high, and new meeting models are required to  ensure members' safety and comfort?  You will find those hidden strengths and skills to solve these problems, just as you have over the past year.
What might seem one challenge too much, is the Federation's introduction of Office 365. Many of you have greeted  the Federation's Office 365 advances with enthusiasm, some have chided them, whilst other have met them with resignation. Fear not, be calm, help is at hand!
Due to the strict regulations around General Data Protection, it has become vital that the Federation ensures that your data is kept safe. Office 365 is the answer. It will also facilitate remote access for our staff working from home, to enable us to keep them safe and to promote environmentally friendly working practices.
But what will it mean for you as a WI, I hear you say? 'If it ain't broke don't fix it'. Fear of the unknown is a basic human trait, and crucial to our survival. We are programmed to either fight our flee, we embrace or we turn our back.
I recall my mother-in-law, well into her 90s, rising to the challenge of the computer in order to play crib, and my  parents similarly acquiring computer skills late in life to track their grandson via a blog as he trekked across South Africa.
Office 365, in the fullness of time, will become a tool to serve all our needs. WI officers will have their own email addresses, space on the cloud where documents can be shared virtually, and most importantly, WI committees will have access from the comfort of their own homes to every document that they will need to run their WI, all in the same place, data secure and paper free. It will save time, money and help save the planet. Adopt your WIs email address at the very least, it is your password to untold treasure!
But it is not expected that this will be achieved overnight. WIs will be offered training, will be able to adopt the system at their leisure, and will still be able to receive paper copies on request. Often fear and apprehension is worse than the thing one is afraid of, so I urge you to embrace Office 365. And remember you are not expected to make this change overnight unless you wish to.
Hands-on training will be provided following best practice —'I hear and I forget, I see and I remember, I do and I understand' to quote Confucius. I have already been trained and will subsequently receive further input as secretary of my own WI. I have dabbled a little each day, acquiring new skills along the way. I have certainly found that by working step by step and taking notes as I go, I have quickly become familiar with the system.
Remember, there have been many women key to the history of the computer, from Ada Lovelace (1815-1852), the 'Prophet of the Computer' and the ladies of Bletchley Park, through to the many who work in the field of computing today. Let us add our names to this list by participating in the roll-out of the project.
Members of the WI have showed, and always will, their veracity. Let's tackle Office 365 with that same spirit. I invite you to applaud your many achievements. What have you learned over the last year that you never thought possible? Be proud of it, celebrate it and add your mastery of Office 365 to this list.
And finally, as you enjoy the summer with your family, friends and WI members, take a moment to reflect. "I've discovered something better than cake.." [said] the mole… "A hug, it lasts longer." "Nothing beats kindness" said the horse. "It sits quietly beyond all things." (Charlie Mackesy, The Boy, The Fox, The Mole and The Horse).
Carol A. Gartrell
Federation Chairman