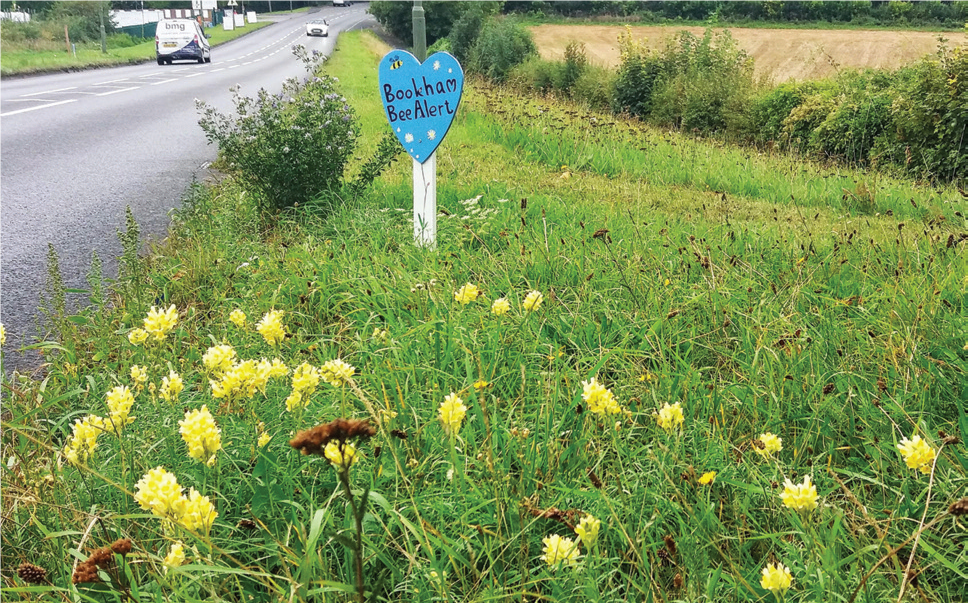 Wildflower 'highway' on village verges
by Diane Poole of Bookham Bees WI
ACCORDING to the national charity Plantlife, over 700 species of wildflower grow on the UK's road  verges —nearly 45% of our total flora. And where wild flowers lead, wildlife follows … a multitude of bees, butterflies, birds and bugs.
In April 2020, my husband Steve and I were delighted by the cowslips and other spring wildflowers on the local highway verges — and then horrified a week later to see these same verges scalped by the Surrey County Council mowers.
That was the start of our Bookham Blue Hearts Wildflower Verges project, working with the  residents' association and county councillor to leave some verges unmown again until the autumn as a pilot.
The long-term aim is to create nectar-rich 'highways' that interconnect to form a national  'bloomband' network.
The Blue Heart signs used on protected verges are beautifully decorated with bees, butterflies and  flowers with slogans like Bookham Bee Friendly to tell passers-by what it's all about and spread the love.
Bookham Butterflies WI members Frances Fancourt and Angela Jones have been helping; Angela  being an excellent artist painted the hearts — this one was done for a verge with orchids.
The scheme was so successful, with the emergence of long suppressed flowers, that we have agreed  yet more Blue Heart verges this year with SCC and well over 50 residents have expressed interest in having their own Blue Heart verge outside their homes.
In one road, there will be multiple hearts in place soon, thanks to a past and a present Great  Bookham Belle member (not all our WIs are named after pollinators!).
We've used Facebook (@bookhambluehearts) and local print media for publicity and already the neighbouring villages of Fetcham and Effingham are joining in. We hope other Surrey WI members will be inspired to join in!
back to News