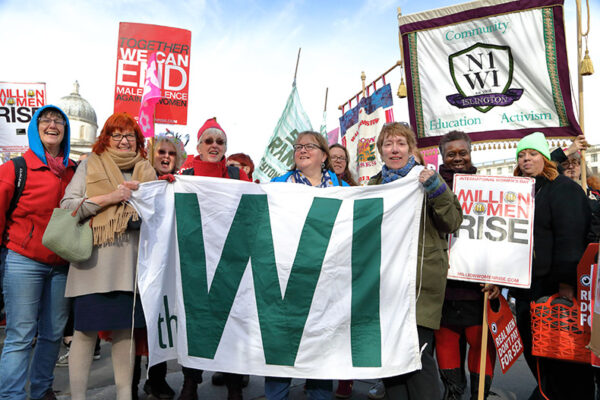 Calling all Crafters for a New Campaigns Project: WI Women in Activism
The NFWI Public Affairs team would like to invite WI members to take part in our new craft project 'WI Women in Activism'. The project involves creating procession banners or pennant flags, with the aim of featuring them in an NFWI online exhibition to mark International Women's Day in March (8 March 2021) and using them in any future marches we attend once Coronavirus restrictions are lifted.
What is the purpose of the project?
The project offers WI members the chance to get involved in campaigns and stay active on issues they care about. The banner/flag could focus on a particular WI campaign or cover a range of campaigns. You could choose a single issue, and highlight particular elements of that issue (e.g. climate change and the impacts on women) or create a banner highlighting all of the gender-focused issues that the WI campaigns on (e.g. equal pay, gender-based violence and women in politics).
Photographs of your completed banner/ flag should be submitted to pa@nfwi.org.uk by Friday 5th March 2021. The actual banner/ flag is for you to keep.
The website also highlights some key work on our current and key campaigns.
Key Words
Activism, a force for change, feminism, inclusivity, trailblazers, women's rights, bold and inspiring, growing and relevant, inclusive and flexible, intersectionality, strength, education, awareness, womxn, female empowerment, justice.
Key Questions:
What does the WI fight for?
What does campaigning mean to you?
What message are you trying to convey?
What do you stand for?
What future would you like to see for women?
Points to consider:  
You don't need to be a professional crafter to take part! Even if you are new to crafting, your banner or flag could be small and use basic techniques such as cutting out and glueing on, stapling or simply drawing on.
Try and include 'The WI' somewhere on your banner/flag big or small.
Be bold, eye-catching and inspiring.
Think long-term; we want to be able to use these banners for years to come.
Get creative! We know climate change is a big issue, but there are many WI campaigns you can choose from – especially issues that particularly affect women.
The banners and flags will be stored in homes, so the size needs to be considered.
If you have a regular WI meeting place where the banner can be displayed (once COVID -19 restrictions have eased), consider creating a larger project.
Use striking colours and imagery (people, symbols, words, campaign logos, icons, quotes).
There are various techniques you can use to create your piece – appliqué, embroidery, patchwork, image transfers, printing, painting, stitching and glueing, along with an array of embellishments such as ribbons, buttons, lace, braids, tassels and fringing.
Try to upcycle as many materials as possible for the banner/flag.
The top of the banner needs to be straight but you can choose to create a shaped bottom (curved, pointed or embellished with prairie points, fringe or tabs).
For more information visit, My WI and if you have any questions, get in touch with us at PA@nfwi.org.uk.