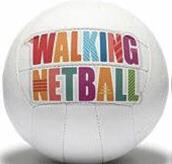 Walking netball is a sociable sport that can be played at the level and pace determined by the members of the team. It helps participants to maintain mobility and coordination in an enjoyable and friendly manner.
Does your WI play walking netball?
If so, the Home Economics Committee would like to hear from you. We are carrying out a survey across the county to find out how many members play walking netball either within their own WI, or at a venue with other members of the public.
We would be interested to know how many of your members play on a regular basis, where they play and who coaches or leads the sessions. Do they play matches against other teams and do they take part in any tournaments — if so, where and when?
If you have members who wish to take up walking netball, the Federation has registered an expression of interest in available funding, in order to be able to offer groups a six week course with a trained coach.
Your WI will need to find a venue, either at a suitable hall or leisure centre. Your WI can then apply for a grant towards the cost of the venue and a coach will be provided to run six sessions for approx. 20 people; they will also train up a person to lead the group after the six-week course has finished.
If there are insufficient members from your WI to make up a game you can combine with a neighbouring WI so that a course can be offered. Just let us know how many interested members you have and the venue you wish to use.
We are awaiting confirmation as to whether SFWI applies for the funding or whether WIs have to apply directly.
Please contact the SFWI office with information to help in our survey, or for further details of coaching sessions if you have members wishing to take part in the sport.
Meriel Sexton
Home Economics, Craft and Gardening Sub-committee
back to News