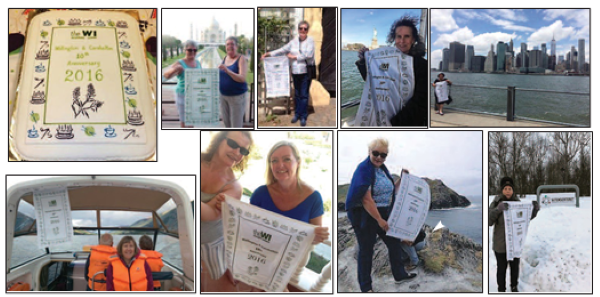 Thank you Wallington and Carshalton Women's Institute
It started with a gorgeous cake made for Wallington and Carshalton's (aka The Lavender Bags) 10th birthday. We liked it so much a tea towel in the same pattern was created and given as a present to each member at the party. A challenge was also thrown down:
Take the tea towel with you on your holidays, trips, outings or celebrations and get a picture of yourself proudly displaying it.
Travels With My Tea Towel has become a 'thing' and members have taken their gifts around the globe.
When Sue Holmes and Sandra Allwood brandished their tea towel in front of the Taj Mahal they nearly got arrested! Police rushed up in fury, saying they were absolutely forbidden to take pictures of "a political slogan"(!) at the site. If they persisted, the item would be confiscated and they'd be in deep trouble. In vain did they protest that this was no political poster, it was to celebrate the WI, but to keep the peace they posed empty handed and PhotoShopped the offending image in later.
Sue and her towel went on to pose at Colditz, escaped and brought her photo home.
Newly appointed co-President Maureen Lander and then President Jo Jones tucked their tea towels into their luggage when crossing the pond and posed in the Big Apple.
Maureen went on to let her tea towel catch the breeze in the Windy City, Chicago.
Jo also went to Turkey with Jill Heaney.
Greta had a much chillier experience, nearly freezing her tea towel rigid in the snowy wastes of Norway this Christmas.
Our other co-President, Sue Tattam took her tea towel on a very appropriate trip to the WI Memorial at the National Memorial Arboretum in Staffordshire, then from beech trees to boats on a canal.
Marion Welch, afloat on Loch Ness, hoped Nessie could be sufficiently intrigued to make an appearance. Clearly the monster prefers to stay in the wet to drying up.
Committee member Joy Robinson went to the British Isles' most westerly point in Co. Cork where the wind was so strong her tea towel had to be held in place by her daughter, who can just be seen crouching behind it.
She also displayed it outside MacCarthy's Bar in Castletownbere, famous for its appearance on the cover of a book by the same name. That picture featured a nun with a pint of Guinness but we feel it would have been much improved with our anniversary gift!
Joy Robinson