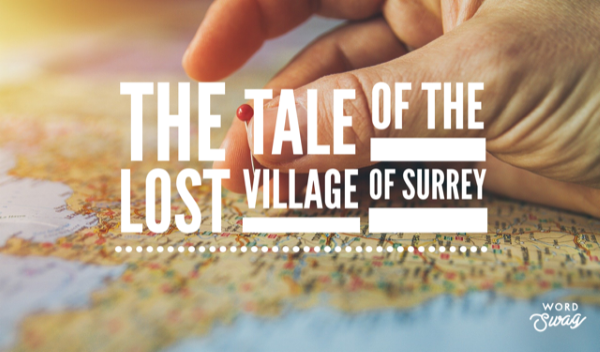 The tale of Surrey's lost village — found in a WI report
Sometimes a chance remark in a report sent in by a WI member catches the eye and warrants further investigation. That happened with a report sent in by Tessa Langmead, stating that a member active in Sidlow Bridge WI for more than 40 years told them about a historical connection with Duxhurst, Lady Henry Somerset and the Priory Museum at Reigate. They were trying to trace some artefacts connected to this time; the response was promising and a lot was learnt by members who were unaware of the connection.
That prompted me to want to know (a) what was Duxhurst and (b) who was Lady Henry Somerset. Thanks to the wonders of the internet, a fascinating tale unfolded.
Lady Isabella Somerset was the estranged wife of Lord Henry Somerset. She was also President of the Women's Temperance Association. She leased the 180-acre Duxhurst estate, three miles south of Reigate, containing a manor house and a farm, and set about building a village for the care of inebriate women of all classes (the nearest seller of alcohol was a mile and a half away). It was opened in 1895 by Princess Mary of Teck (later Queen Mary).
Aristocratic ladies and stage celebrities suffering from alcoholism were accommodated in the manor house.
Inebriates of the "middle" classes lived in another house on the estate.
For the rest, Lady Somerset believed they should be usefully occupied, but in a setting as far removed from their previous life as possible. So she built a collection of thatched cottages arranged in a horseshoe around a village green. Each could house up to eight women, many from very rough backgrounds. The village had a hospital, laundries, workshops, a dairy farm, gardens, greenhouses, lavender fields — even a pottery. By 1902 it was claiming a 45 per cent success rate in curing alcoholism.
War work for women relieved the loneliness and unhappiness which made many of them turn to drink, so in 1915 Duxhurst was requisitioned as a Red Cross hospital. When the estate was decommissioned in 1917, Lady Isabella turned it into a children's village.
Lady Isabella died aged 71 in 1921.The children's village closed in 1923 and Duxhurst was used as a home for gentlefolk until 1936 when it was purchased for use as an orphanage. In WWII it was requisitioned as a cadet training centre and later became a camp for Italian PoWs. After the war the buildings were left vacant; by the 1960s most had been demolished. Today Duxhurst is known as Surrey's lost village.
I thought I knew my home county but all this was news to me (and is, perhaps, to you). Isn't it  amazing what treasures can be gleaned from a WI report!
June Green, Editor Surrey WI News.