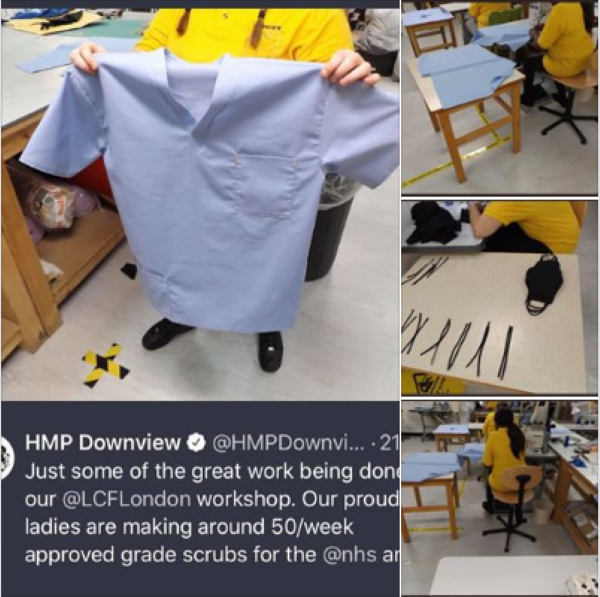 An update and a big thank you from the Downview Dames – we have been flooded with cards of support and even craft packs that have been sent in from WI members all over Surrey. Your call to arms was wonderful.
We have received so many cards we have been able to distribute one to each of our 20 members and with spare to hang on wing noticeboards. One member said "It's so lovely to know that people in the community care about us, it means so much and has kept me going."
We have distributed craft making activities and all of our sewing machines to our members so that they can do some work from their cells. All are currently locked behind their doors for 23 hours a day which is hard, as you can imagine. However they are beavering away on some greening projects (reusable cloth bags, reusable makeup remover wipes etc).
A few of our members are employed in the London College of Fashion workshop here in the prison and they have been really busy making hundreds of scrubs and face masks for Epsom General Hospital, which have been very gratefully received. One describes her work in there as "wonderful to be able to actually do something". I'm sure you can imagine the feelings of helplessness many of our women are experiencing at the current time so to be able to usefully contribute to the COVID-19 response is very empowering.
So – please pass on our thanks, and I hope the members in the community are safe and well. Better times are ahead.