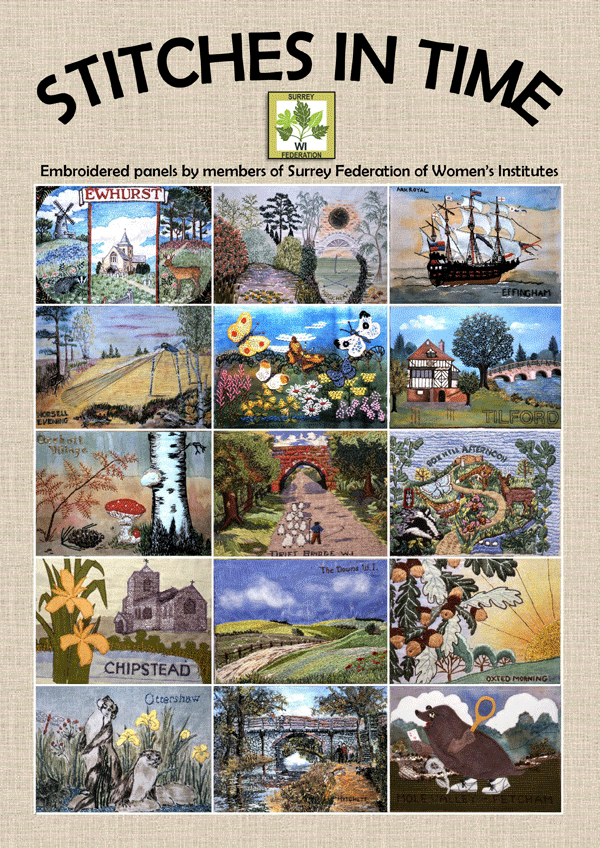 A free gift for all Surrey WIs.
IF you have visited our Federation HQ at Guildford you must have admired the wall hangings depicting scenes of Surrey villages and towns, embroidered by their WI members initially to celebrate the Federation's 75th anniversary.
A printed copy of the wall hangings was included in our Centenary Scrapbook. It contained each illustration, together with a brief written description of each panel (where available); further panels created for later anniversaries, plus entries for the 2018 Eileen Bowler competition to produce a wall hanging to commemorate our Centenary.
Sadly not everyone will see the original hangings or the Scrapbook, so we have put all the illustrations listed above into an A4 booklet: Stitches in Time. Each WI in the county will receive a free copy. This gives every member the chance to admire the skill and beauty of these panels, and read some of the fascinating and curious tales that accompany them, for example:
Do you know that someone is buried upside down on Box Hill?
Where you can see the cauldron of a white witch called Mother Ludlam?
That a group of Surrey women slaughtered Danish warriors fleeing from battle in the 9th century?
Your free copy will be included in the delegates' packs to be collected at the Annual Council Meeting. Copies will also be available to buy at £3 each.