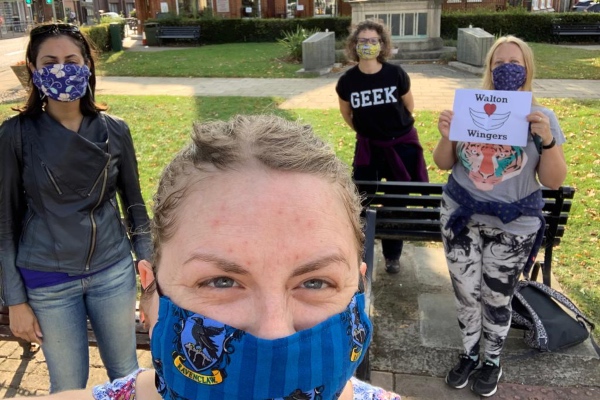 Four groups took part in our virtual scavenger hunt last month, some out- doors and some home-based. 
Streatham WI (Mandria Mystery Mob) joined us from sunny Cyprus, with antics from around the pool, house and pub; Tadworth WI ( Walton Wanderers) were based in a house in Pyford; Weybridge WI (Walton Wingers) joined us from Wal- ton town centre and found themselves singing and preaching about their WI around the town, while New Haw and Woodham (Pyford Squirrels) also hunted from home. 
The teams had a list of 30 objects to find or tasks to carry out, with points awarded for each successfully achieved. Pictures to prove the task had been completed had to be emailed to the organisers within two hours. 
This is what they had to do/find (points awarded in brackets): 
Bus selfie (5), Random act of kindness (4), Most expensive and cheapest jams (1), Best selling book by a female author (1), Team pic (2), Christmas comes early (2), Film/book on slavery (2), Plas- tic-free veg (1), 'Beatles' zebra crossing (4), Pick a bag of litter (3 per bag), Local alcohol (2); Green space (2), 'Free From' item (1), Human WI letters (2) "Smear" something (3), Tell a stranger a joke and make them smile (5), Represents resolutions (4), Small ran- dom item in random place (2), Preach about the WI (4), Indepen- dent shop selfie (1), Calendar Girls (5), Home-made (3), Pollinator picture (1), Drink from your reusable cup/bottle (1), Worst charity shop find under £3 (1), Inspiring women (4), Public Jerusalem sin- galong (5), Zoom (4), Find a hybrid car/electric car charging point (4), 'Too hot to handle' (4). 
Weybridge were the winners with 91 points.