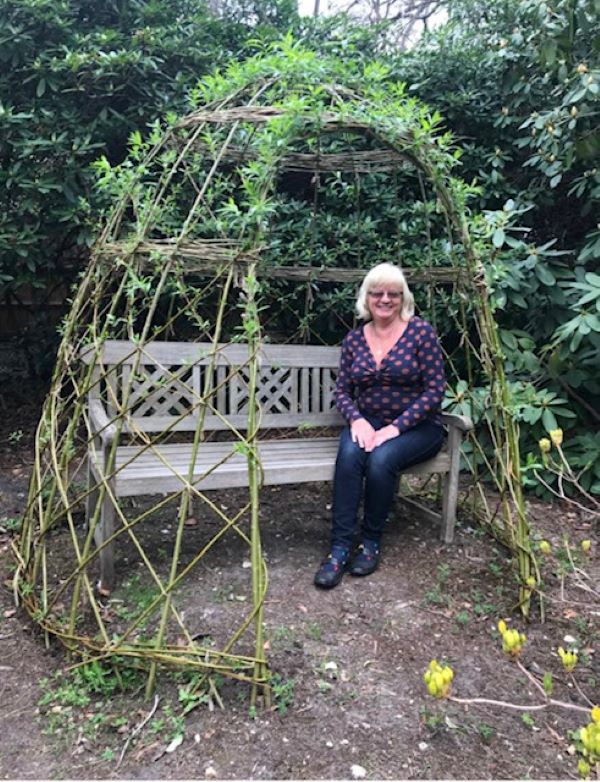 What will our COVID legacy be?
What was your legacy from your forebears? Mine was from coal mining. Many generations on both sides of my family worked in the South Yorkshire coal field. Benefits there were many — relative wealth, education, housing and a strong sense of community — but chronic disease and even death, was an unwelcomed spectre. I benefited from the former, but fortunately not from the latter. 
Such thoughts lead me to wonder what the legacy of the COVID-19 pandemic will be. What have you noticed about the new normal within your WI? Have you experienced the added value of meeting WI members in new and different ways and environments? What benefits did you reap from the imposed lockdown? A squeaky-clean house perhaps, strong friendships nurtured via a telephone line, a window box or a garden burgeoning with flowers or vegetables that you would never normally have grown. My garden has been taken over by a fascinating collection of gourds. 
Have you experienced a new sense of belonging to the WI as members have demonstrated their imagination and ingenuity as they have found different ways to engage, through socially distanced teas, garden visits, curated walks, small craft meetings and Zoom get-togethers? 
Finding new ways to engage with WI members is currently what the Federation is working on — capitalising on the wonders of the digital age which have brought welcome interactions with our families and friends into our homes (many of which you have been forcibly required to engage with) but to hitherto unbelievable benefit. 
Similar blue-skies thinking has been happening at Federation level where committee Chairmen and Vice Chairmen have got together to develop and produce an exciting programme for all members for the autumn and winter, including workshops with an aim to reinvent our offerings to reach a wider audience and to bridge the gap until we can resume cross county meetings. 
You will be offered social meetings with your advisers, craft and cookery workshops, take a farm tour, challenges, training opportunities, talks, quizzes, a murder mystery and much more, via Zoom on weekdays and weekends, mornings, afternoons and evenings, enabling the widest possible audience to be engaged. All will be advertised in SWIN, on the web- site and social media. The programme will be constantly updated. Bookings will be made via the online ticketing service, Eventbrite, which you will have used if you have booked to visit a National Trust garden this summer. 
Returning to my thoughts of legacy. What will your legacy be? A hand crafted quilt made for a baby born during lockdown, a tree planted for many future generations to enjoy, a climate change scarf or blanket, poppies for the RAF Memorial Museum, greening an un- tended patch of community land, scrubs for the NHS and care homes? I would love to know. But what might our legacy to the Earth be? 
In 536 AD 'The sun gave forth its light without brightness like the moon during the whole year,' the Byzantine historian Procopius recorded. For 18 months the world was without sunshine. This was followed in 541 AD by the first recorded pandemic which, it is believed, killed up to half the world's population. This mysterious climate catastrophe and first global pandemic left its record in the rocks, ice, rings of fallen trees and in the sediments of rivers, lakes and seas. 
Modern technology has enabled the collection and analysis of a 72-metre-long ice core from a Swiss glacier. It is a time capsule that tells the story of the Earth for the last 2,000 years. Scientists traced the source of the darkness to an Icelandic volcano. It reveals a 100-year economic stagnation, evidenced by the lack of lead emitted in the silver smelting process. A similar record was found between 1349 and 1353, the period of the Black Death, when the economy once again collapsed, and traces of chemicals from industrial processes disappeared in the Earth's record. 
How will our current pandemic be recorded by the Earth? 2020 has seen a rapid fall in cadmium, lead and sulphur in the atmosphere, some of the key elements of pollution. The level of absorption by trees will record this fall. But the huge amounts of non- recyclable personal protection equipment dumped in landfill will show up as a dramatic and unwelcomed spike in the sediments of seas, lakes and rivers in the future. Covid-19 has challenged the very way we live. It has prompted us to consider what changes we wish to make to our world as things return to a new normal. 
'The Time is Now'. Will we commit to reducing carbon emissions, to improve communities, to travel less and to strengthen our health service? Can we make this a reality? Will future generations be able to say that the year 2020 marked the time the world changed course by reducing its fossil footprint, thereby mitigating climate change? 
Together, we as WI members can contribute to making this a reality. Will this be our legacy? It would be an incredibly valuable one. 
Carol A. Gartrell, Federation Chairman