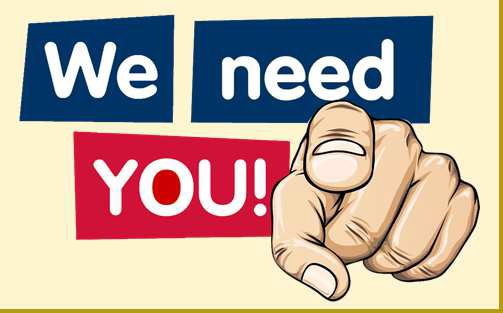 Help! The Future of our Federation is at risk!
Once a volunteer, always a volunteer. Are you one of those people who finds their hand mysteriously in the air, of its own free will, when help is asked for? I certainly am. I guess that you are, as you are a member of the largest femaIe volunteering organisation in the country. I imagine therefore that you are a born volunteer?
Are, or were you, a Brownie or Cub leader, a school governor, a Sunday school teacher, a volunteer for another charity? The answer will be yes for many of you.
Have you volunteered at your WI? Volunteers come in all shapes and sizes, not just as members of the committee, but perhaps one who meets and greets, sends a birthday or get-well card, or is that mysterious person who ensures that the urn is switched on but does this in an invisible fashion. I am certainly one of those, although my volunteering ideal as a student was to do Voluntary Service Overseas, something I aspired to do, never achieved, but still hanker after.
This is probably why I became a WI President, followed by a Federation Sub-committee member and finally your Chairman, and now for a fourth year. It was certainly not my motive for joining the WI, it just, well sort of, happened.
I still 'blame' a breadmaking workshop run by Betty Dominy for catching me and thereafter I was slowly reeled in on the proverbial WI hook. My intention was always to complete only a three-year term of office, just as all but one SFWI Chairman has done in the last 104 years. But this was not to be as, for a variety of reasons, no-one currently felt able to accept the nomination of Chairman.
So, because of a sense of duty and commitment to the WI and its charity objects, but with some hesitancy, I introduce myself to you as Federation Chairman for one more year. Incidentally also as the Secretary of Bagshot WI as we approach our 100th birthday and Chairman of the Federation's Home Economics Sub-committee. That proverbial hand in the air again?!
Currently many charities, the WI amongst them, are struggling with the recruitment of volunteers at all levels of their organisations. Many people now wish to reclaim that lost time they spent in lockdown, 'imprisoned' for two years, and regain it by making the most of their time.
For many this means crossing items off their bucket list, and thus volunteering drops off the agenda. The WI, and in particular the Federation, are in a position where we are not recruiting a sufficient number of members to become Federation Trustees.
Toto James, Betty Dominy and Becky Warburton are stepping down from the Board of Trustees. Ann Thomas (Warlingham Evening WI), who spearheads the WI marquee at the Edenbridge and Oxbridge Show and Chris Butterfield have agreed to become Trustees.*
But this means we have only ten Trustees out of a possible 15. If we drop below eight then the Federation will be in peril and, under Charity Commission rules, will no longer be permitted to function. The Federation is therefore currently at risk.
This is where YOU come in! View volunteering as an exciting opportunity to:
• Broaden your horizons;
• Learn new skills;
• Soup up your CV;
• Enrich your endeavours;
• Ramp up your retirement;
• Invest your inspiration;
• Employ the many and particular skills you have to the benefit of the Surrey Federation and its members;
• Give to your county and your community; l Raise your voice for the benefit of all women;
• Join a team that shares your dreams;
• Make a difference;
• Become a Surrey Federation of WIs trustee!
Our Federation is a wonderful one with a sparkling history and a glowing future. It has achieved so much in its 104-year history. Don't let the Federation become another victim of Covid. We are not a high street chain, we are not a fuel supplier, we are the WI.
Please put your name forward, have a chat with a Trustee, observe a board meeting [see Page 4 for dates], join us, add to the rich legacy of the WI, make a difference to the lives of women. The Surrey Federation needs you so please, answer the call today and reap the benefits of volunteering. They are many, varied and ultimately rewarding for all!
Carol A. Gartrell
Federation Chairman