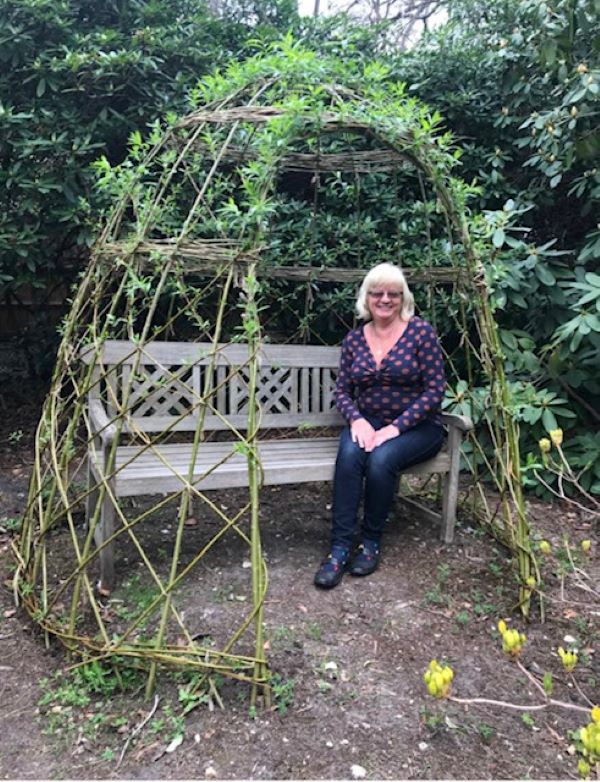 Will hunger be the next pandemic? 
As I gaze out of the window, I look on a dull, grey sky, skeletal trees, a freeze- dried garden covered in icing sugar-snow, with no sight of bird nor beast, all frozen in time, or so it would appear. Is today a metaphor for the last 12 months when, en- trapped by Covid-19, all that we knew to be normal was paused? Theatres and sports venues closed, family meetings forbidden, holidays cancelled, non-essential shops closed and even travel to the next village discouraged. Can this be real? How could this have happened? But this is not the first time. 
Did you know that in 1592, during the 'London Plague', public houses and theatres were closed for two years and Queen Elizabeth I was evacuated to Windsor Castle, mirroring last year? Maybe we should be grateful as, once plague had been diagnosed, the whole family was locked up and the door anointed with a red cross, effectively signing the death warrant for all. 
Fortunately, this has not been repeated, although being voluntarily confined to one's own home for months on end has been particularly challenging. 
Perhaps we haven't had it so bad after all. 
With the roll out of the vaccine, there may be light at the end of the tunnel. 
So how have you passed the time? Food has certainly been a focus in our lives. Mealtimes have established routine and celebrating events on our own, normally shared with family and friends, has marked the passing of time. 
Have you shared a family birthday cake virtually? Have you experimented with that random selection of ingredients left in the fridge or cupboard prior to the next food delivery? Have you faced the challenge of online food shopping where an item ordered is replaced by something completely different? 
Sustainable 
I am currently enraged by having to receive my shopping in single-use plastic bags to save delivery time — a letter of complaint is on its way! 
On retirement, I had committed myself to living a more sustainable life. Therefore, pre-pandemic, I sought to buy locally, reduce food miles, eat seasonally, grow fruit and vegetables, and throw away as little as possible. Why has this become such a challenge? 
As a child I could hop over the garden wall, pick mushrooms in the sheds, and leave payment in a tin. This week, much to my horror, the mushrooms that I purchased came from Poland! Thankfully, the rest of my vegetables came from the UK. Buying local, when travel has been limited to one's own village, has become such a challenge. 
Disappointment 
A change in our food buying habits, accelerated by the pandemic, has been greater use of the corner shop, although on closer inspection it's clear that most are owned by supermarkets or are franchises. What a disappointment. 
My grandfather managed a corner shop in my hometown. I recall sacks of flour and sugar, huge truckles of cheese, loose vegetables in plentiful supply and butter in barrels, the hoops of which I detached, carefully removing the nails, and used as hula hoops. I was fascinated by the hams hanging from the ceiling 'in the back' where, each morning, Grandad would scrape off the maggots and then rinse. Nothing was wasted. 
During the pandemic, despite early concerns, our food supply chains remained remarkably resilient. Any shortages were due largely to our initial overbuying and differing food demands as more meals were being cooked at home. 
Problem
For the developing world, however, food security is a huge problem. In December 2020, the World Food Programme (WFP), established 60 years ago 'as an experiment to provide food aid' and just as necessary today, won the Nobel Peace Prize. Its aims: to ensure that all people always have access to nutritious food necessary for an active and healthy life. 
The WFP predicts that due to war, climate change and the widespread use of food as a political and military weapon, this huge problem which was already unfolding has been greatly accelerated by the pandemic and that 2021 will be the year of the 'Hunger Pandemic', for food and peace are inextricably linked. Without food security there can be no peace; without peace there can be no food security. 
This year 270 million people are on the brink of starvation and 690 million go to bed hungry every night. 
Difference
What can we as WI members do about this? How can we make a tangible difference? Maybe we could look closer to home. 
As the clutches of the pandemic weaken and we can engage with our community, can we make a difference? Covid has propelled many families in the UK into financial difficulties, with a doubling of the number depending on food banks. Currently 4.2 million children in the UK live below the poverty line, particularly from lone parent families, black and ethnic minority communities, and large families. 
Although a relatively prosperous county, ten per cent of children in Surrey currently live below the poverty line. It may be a relatively small percentage, but any is too many. 
How can we, as WI members re-engage with our communities to the benefit of the lives of women and children? The Let's Cook initiative springs to mind. What ideas have you? Could they provide a project for your WI in your community? 
Carol A. Gartrell, Federation Chairman