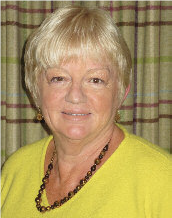 The very serious and topical article An end to Doom-Scrolling in the May/June edition of WI Life describes the activity of constantly accessing news that I am sure we have all been involved in and which has the potential to severely impact our mental health.
The term Doom-Scrolling initially had a very different connotation for me as it took me back to the 1970's Sci-fi TV programme — Doomwatch. It featured my first ever screen heart throb, Robert Powell, aka Toby Wren who met his fate in a bomb explosion on what was, in real life, Cromer Pier. I recall the barbed wire that encased it on a visit to Cromer whilst it was being filmed, and I was amused by the shocked faces of passers-by on the promenade, who did not realise that a film shoot was taking place!
The thought-provoking and well-evidenced article advises us to limit our over-engagement with news. Our constant tracking of the progress of Covid has become symptomatic of these times, and with the hellish situation in the Ukraine, one feels not only the necessity to keep constantly up to date but to do this out of a feeling of guilt, prompted by the need to offer support in whatever way is possible.
But what does this do for our mental health? I am minded, in this mental health awareness week to encourage you to take care of your own mental health, give yourself time to re-adjust, not to be pressed into doing things that you are not yet ready to do, to look forward, to not worry about the things you cannot change, to take something positive from each day not only now but also in the future.
Is this Doom-Scrolling habit the best way for us to support the people of the Ukraine? As Ukrainian refugees arrive and are welcomed into our communities and homes, there are many more practical and productive ways that we as WI members can make a difference.
It is not the first time that we have welcomed refugees. I recall Lydia and Helen from Estonia, and John from Poland* joining us at our primary school in a West Yorkshire village back in the late 1950s. Both they and their families quicky became part of the community as our cultures were shared, as children, through the food we ate together, our clothes and the games we played. I am still in contact with John some 60 years later. This is one of the great benefits of social media. But how can we provide support? How can we enable these families to engage with and feel part of our communities whilst maintaining their cultural identity?
A friend is welcoming a family of five into her home. Until they arrive there is precious little that anyone can do as their specific needs are unknown, only the ages and genders of their children. What is certain is that food — perhaps a meal delivered to pop in the oven — bedding, personal items and clothes, footwear and toys for growing children will be most welcome and necessary. In time we could invite them to our WI meetings, offer them the opportunity to engage with their new community. Just a start, but a welcome first step I hope.
But it is not only the Ukrainian people that need our support. During the Covid pandemic a record number of UK families have fallen below the poverty line and have been forced to access food banks. Post-Covid the situation has become worse with the sudden and excessive rise in the cost of fuel and food as the largest oil and gas producer, Russia, and one of the biggest exporters of food, are in conflict, leaving many more families short of food. This, in our country and in the 21st century.
This is another area we as WI members can make a difference by, for example, supporting our local food banks. It is incumbent upon us, not only to look at the wider picture but also to address those close by, our neighbours, friends and fellow WI members who may themselves need support, help and advice. We must pave the way so that anyone — including ourselves — who needs help feels confident and comfortable enough to ask for it.
This awareness of current financial challenges has implications for the planning of all WI meetings, activities and events. Remember that every WI member is entitled to 11 meetings, free of any additional cost. When organising additional groups, meals, outings and visits, think very carefully of cost. How can these activities be made financially accessible to all? Do your bye-laws cover the sharing of petrol costs for lifts, enable a member to be recompensed for the cost of a plate of sandwiches or cake made for a WI meeting? Such considerations can make the difference between a member feeling included or not by being able to contribute their valued time and skills without a financial cost.
I return to Doom-Scrolling. As I write May 9 approaches — Victory Day in Russia, I fear that we will once more be tempted to trawl news sources, to Doom-Scroll, and to desperately hope that Russia will not commemorate the Soviet retaking of Berlin in 1945 with a escalation in hostilities against Ukraine.
In the early 1970s I had the opportunity to see Robert Powell in person as Hamlet at The Crucible theatre in Sheffield and to hear a pre-performance talk by him. I was in awe! My recollection of that night led me to two quotations from that play which appear particularly apt for this time:
"There is nothing either good or bad, but thinking makes it so" (Act II, Scene ii), that exhorts us to develop perspective on all we engage with and:
"This above all; To thine own self be true" (Act 1, Scene iii), which inspires us to follow our hearts and do whatever we can as WI members to improve the lives of others, particularly women and children and especially of those in our own growing communities enriched by the diversity of those we are welcoming, and where we can make a finite difference. — Carol A. Gartrell, Federation Chairman
* To find out more about the Polish people who came as refugees to the UK visit the Tweedsmuir Camp at the Rural Life Living Museum in Tilford, Surrey, that records their story in words and pictures. This would make an excellent day out.
Carol A. Gartrell
Federation Chairman