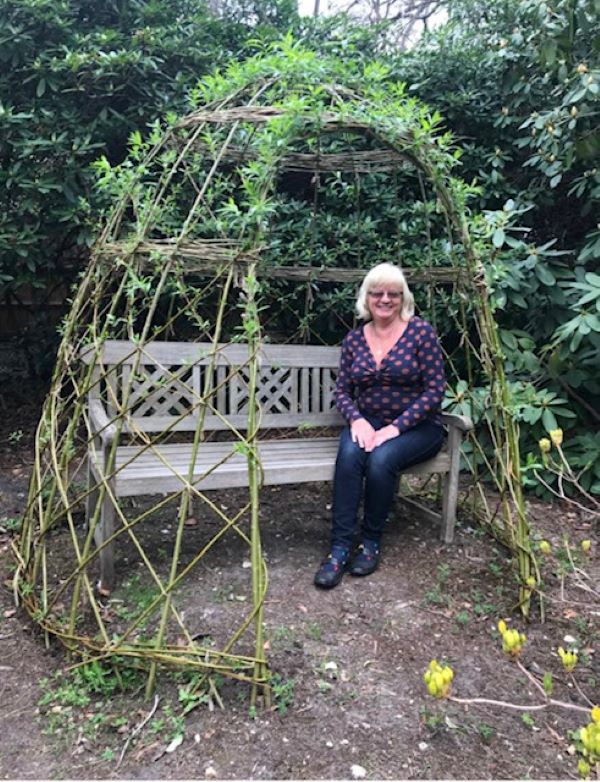 Let's make it a Happy New Year! 
As the New Year 2020 dawned I made a resolution on our behalf, that we would "resolve to recognise and utilise members' strengths, celebrate our differences and work together to further progress our WIs." 
Little did any of us know what the world would throw at us and how you, as WI members, would rise to the challenge. What you have done during 2020 far out- strips anything I could have imagined in the way that you have served both your WIs and your communities. What you have achieved is extraordinary. 
But why, I ask myself, do people respond to a crisis in such a way? I was reminded of a phrase in the Prince of Wales' address at the Festival of Remembrance when he said that "many have offered a shining example of selfless commitment and how those, even in their later years, can achieve so much good by placing others ahead of themselves." This led me to muse on the theme of service. 
I was educated in a northern grammar school in the 1960s whose motto was To Learn, To Serve. This characterised the ethos of our school and fashioned every aspect of our education. It's not surprising therefore that the idea of service has guided my personal philosophy. 
It is a complete coincidence however that I have lived for over thirty years in the village of Deepcut, that has been driven by its dedication to service for generations as home to the Royal Army Ordnance Corps, sadly not for much longer as the barracks are being replaced by a huge housing estate. I do find it intriguing that the Garrison Church is dedicated to St Barbara, patron saint of all things explosive! 
But I digress. Service has always been a factor in the life of my family, whether it was my grandfather in the Royal Horse Artillery at nearby Aldershot, post-World War 1, or my parents taking on many voluntary roles in the community. It's not surprising therefore that the WI found its way into my life. What was your journey into the WI? 
The year 2020 has not only been the year of COVID-19, but it also marked the 75th Anniversary of VE and VJ day; the former, many of us celebrated in our gardens during lockdown. There was a sense that we shared a communality with the people of those times as we battled with all that COVID-19 threw at us. 
I was deeply moved by further sentiments of the Prince of Wales at the Festival as he spoke about the way that peoples' response to COVID-19 had "reaffirmed our faith in each other and in our communities and seen afresh that service to others underpins our community" and that "the very best of our country has been on conspicuous display" throughout the pandemic, reminding us that "heroes and heroines are all around us and take many forms." You, the ladies of the WI immediately sprang to mind and should be justly proud. 
I was touched also by the words of Rabbi Lord Jonathan Sacks, in a re-broadcast of an edition of Thought for the Day to mark his death. It was a reflection on the theme of loving life and wanting to improve the life of others. 
In it he considered the cornerstones of our lives — the physical, the intellectual, the spiritual and the moral, thoughts that must have correlated with our own personal reflections over the last year as we have had time to ponder on such matters during the pandemic. 
It further prompted me to evaluate what WI members have achieved during 2020. You have never given way to disillusionment or despair but have lived life and loved life, and in so doing have greatly enhanced the life of others in your communities. 
I want to leave you with one final reflection: to belong to things is crucial to both our community and our identity, whether it be country, faith or an organisation like the WI. As we are slowly eased out of lockdown and return to some sort of normality, the WI will play a critical role in this process, and each of you can be key players. In 2021, let us continue to work together to serve and to enrich our communities and, in turn, to raise the pro- file of our organisation. 
Let us together make this a Happy New Year.
Carol A. Gartrell, Federation Chairman