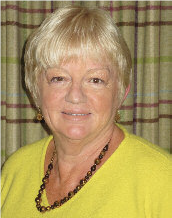 CAROL'S COLUMN: LAUGHTER, TEARS AND JOY
Yesterday was our Autumn Federation Meeting and what a joy-filled day it was.
Who would have thought that a programme of Forest School antics, the 'Walk the Walk' Moonwalk Charity challenge, the Burlesque Bombshells Troupe, a Yeoman Warder and Surrey Serenaders could have filled the hall with so much emotion and laughter, even to the point of tears?
Whether or not you were aware of it, there was a message that underpinned the whole day: that if you accept a challenge, follow a dream, find your hand in the air, the world will offer you rewards and opportunities that will not only change your life but may have a significant and beneficial butterfly effect touching many. My mantra has always been to accept any opportunity that is offered to me for it is likely only to be made once in life. This has stood me in very good stead, so far.
What was it about yesterday that made it such an enjoyable day? For me it was seeing a room of women laughing together — infectious waves of laughter! If a member of your WI comes along to your next WI meeting with her coat buttoned up to her neck, be prepared for a surprise.
One member who had attended many meetings said that this was the best meeting she had ever been to, whilst another said that after two-and-a-half years of restrictions she "felt alive once more!" It really did feel like a party, a true celebration and seemed to anticipate the season we are approaching, of festivals and family, of food shared and traditions celebrated.
What will you do with your WI to celebrate the festive season? How will you celebrate with your family and friends? Are there any traditions that make your celebrations special or unique? We would love to hear.
My family celebrate Christmas. It lasts a day longer than most as my birthday is on Christmas Eve, hence my name — Carol. I wonder though, with the accession of King Charles III and our entry into the Carolean period, if Carol will become a popular name.
Mum was a little frustrated that, because I had kept her waiting for three weeks, my arrival meant that she was not allowed a Christmas lunch. How times have changed. Today she would be home and probably cooking it.
Traditions
Our Christmas is never without Great Grandma's George VI sixpences being slipped into the Christmas pudding, supposedly unseen, but it never happens quite like that. And the matchstick-style Father Christmas who sat astride Mum's Christmas tree at rather a jaunty angle. He now travels to wherever the family Christmas is, and we take turns to hide him for the children to find. My biggest challenge is finding him from one year to the next and doing the running repairs!
We as WI members must share many common traditions. Do you make your Christmas pudding and cake on 'Stir-up Sunday' with family members, stirring the mixture and making a wish? We do, but it's always prompted by The Archers. I use the NFWI's Centenary Fruit Cake recipe, it's brilliant!*
Items that have also become a crucial part of my Christmas preparations are Betty Dominy's tomato and red pepper chutney and Beryl Havers' folded fabric stars. Both were learnt at Surrey Federation workshops and will grace anyone's Christmas.
Do you decorate your house? I do but I had never really thought about the significance of bringing greenery into the house other than it looks lovely and smells wonderful.
The Druids, Celts and Romans believed that the ability of evergreen trees to keep their leaves was magical and held the promise that spring would return. Holly was subsequently adopted as a Christian symbol, with the berries representing Christ's blood and the evergreen leaves as a metaphor for life after death.
The significance of mistletoe, although having similar pagan origins, has very different connotations. Revered by the Romans as a symbol of peace, love and understanding, the berries were believed also to be a symbol of fertility. Men were required to kiss the one they loved under the mistletoe to cement their relationship. In doing this it also protected them from witches and demons. Be careful who you kiss under the mistletoe!
This year I will have to cast my search more widely for greenery as the local forest that I have harvested my holly and ivy from for years has been felled to make way for new housing, whilst the brownfield site next to it is being flattened and planted with trees. Such appears to be the wisdom of the planners.
As you enjoy your celebrations this year, take a little time to think why we celebrate our festivals, beyond the razzamatazz. It is ultimately a time for family and friends to come together, something we missed desperately during Covid, and it's never too late to create memories and instigate a new family tradition. Whatever festival you celebrate this year, do it with joy, something that has been in such short supply. Make it a season to remember for all that are important to you. Happy Christmas.
Carol A. Gartrell
Federation Chairman
*For the recipe go https://www.thewi.org.uk and put "Centenary Fruit Cake" in the search box.