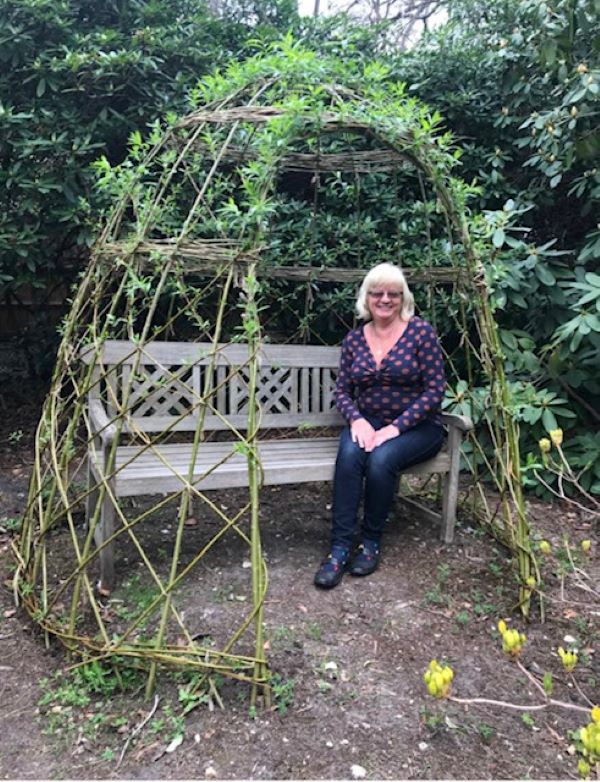 It's time for some 'blue sky' thinking 
As July morphs into August, many of us can celebrate, for the first time since March, a little freedom; the opportunity to spend un- limited time with our family and friends, and even to go on holiday. It has been a long and challenging and sometimes also an enlightening journey. There have been many hardships and deprivations and for some, the requirement to endure these alone. Different for each one of us, but nevertheless very real. It is now time to look forward, perhaps with a little trepidation for fear of the unknown, but we can all now take small steps into a new future, into the post COVID-19 world. 
But first I would like to look back over the recent times, not to relive or to recount, but to acknowledge the wonderful deeds that members of WIs across the county have undertaken. I have read in SWIN over the last few months of the generosity of WI members, whether it be sewing or baking, shop- ping or caring, phoning and supporting. 
It seems that every member has done their best to make the lives of those around them, in their WIs, communities and families, better and safer through the precious gifts of time and skill. 
I am in awe of what you have achieved, and immensely proud. Never let it be said that the WI is an organisation of the past, of Jam and Jerusalem. Yes, we can and do make jam, and we can sing Jerusalem, although, for the moment it must be sung outside, socially distanced and at a reduced volume. 
As a musician I find it bizarre but understand- able that to sing, a practice that is an integral feature of every culture on the planet and has such healing properties, is strongly discouraged. Once again we have demonstrated that, in a crisis, the WI can make a significant difference. 
So, what of the rest of 2020 and onwards into 2021? Many of us will find comfort in knowing that as soon as we are able, many of our much loved and well attended Federation events and workshops will return. But, at the moment, it is time for 'blue skies thinking', very appropriate for the beautiful July morning on which I write (and a memorable one, as the wren I have watched backwards and forwards to her nest has just introduced her four tiny fledglings to our world). 
But I digress. We have learned, through these difficult times, that although personal interaction is key to our existence as humans, at times of crisis we can find other ways to communicate with family, friends and fellow WI members. 
Will we, and how can we, now make use of these newly found skills? This is a challenge that the Federation committees are currently addressing. Watch this space. 
This is where you also come in as a WI member. There may be little opportunity to meet together in large groups for some time, so what can you do as a WI committee to replace your monthly meeting in a hall? 
For a time, small may well be more beautiful. How can you integrate communications technology to deliver a meeting? There are many WIs who are already enjoying their monthly meetings using conferencing technologies like Zoom. There are still another three months of the year when socially distanced walks, garden events and outdoor visits can take place. Why don't you take this opportunity to arrange one for your members before the winter sets in? You don't have to be a committee member to arrange an informal meeting. 
As we open our eyes to a new world, post- COVID, let's not forget that the key challenge of our time, climate change, is the crucial one. Our growing Public Affairs team, under the leadership of Hilary Brooks, is keen to engage you in campaigning. This is one of the key ways that the WI has made significant changes for the better to the lives of women over its 105-year history, and today is no different. So get involved in the 'Stem Cell Donation' and 'End Modern Slavery' campaigns. 
Very many of you have selflessly given your time and energies since March. Some of you will have put your own lives at risk for the benefit of others. We are most grateful for all that you have done. 
As we move forward let's retain this sense of community and solidarity. Let's realise once again that together we can make a difference. Let's ensure that together the WI takes a leading role in this new world. Let's craft it in a way that improves the lives of women. Let's see this as a time of rebirth and renewal, an opportunity to rethink the way we do things. 
And finally let's share in the inspirational words of Malala Yousafzai: There are two powers in the world; one is the sword and the other is the pen. There is a third power stronger than both, that of women.
Carol Gartrell, Chairman