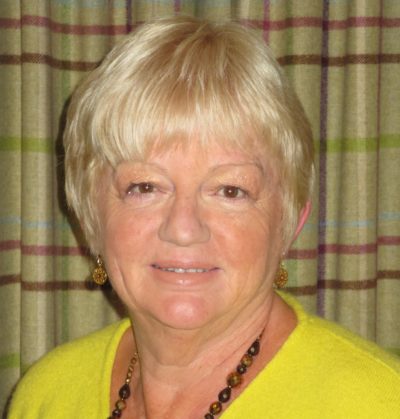 Day by day, the shadow of the Coronavirus looms larger. We are on the brink of an unprecedented health event, unlike anything we have known in our life-time.
The WI has always stood strong in times of crisis. I exhort you to be active in your WIs and your communities, even at a distance, to keep in touch with your members and neighbours, and to offer whatever support, help and daily, remote contact that you can. After all, we can make a difference.
WE ARE THE WI!
The following was written in mid-February, before the COVID-19 epidemic affected our lives.
Will you be the one to blossom in April?
April is the month of comedy, contrast and change. Whether you view this month from the inspirational perspective of Christopher Morley, "April prepares her green traffic light and the world thinks Go," or the cynical view of Charles Lamb, "Here cometh April again, and as far as I can see the world hath more fools in it than ever," April is full of surprises. What other month could begin with a day dedicated to
pranks?
April Fool's Day, a day (or rather morning, don't be caught out after mid-day) of jolly japes, is a custom shared by many across the world, and in Odessa, is even a public holiday! One of my favourite practical jokes took place on 1st April 1857 when an invitation was posted by the Tower of London to buy tickets to the Annual Ceremony of Washing the Lions. I am sure that you have your own favourite. Whatever your view of the day itself, April is indeed a month of surprises. The spring equinox has passed, the garden and countryside springs into life. It is a time of birth and rebirth, a time of optimism and new beginnings. As I write, late in January, on a grey, damp, chill morning, the earth is beginning to stir. I can see snowdrops, winter aconites, crocuses and the first wood anemones. I can also spot a rather confused camelia and an azalea, both flowering very early, a product of the mild winter, an indicator of climate change?
But as April arrives the world truly blossoms, despite the occasional surprise April shower. At one point in our history, before the Julian calendar replaced the Augustinian one, April 1st was the beginning of the New Year. Those who didn't follow the change were considered comical, and hence possibly the origin of the April Fool tradition. For the Federation, April is also the start of the year, in that there is a new Board of Trustees with new members and new roles and responsibilities, although SFWI definitely does not fall into the above category! It is a time of change and of opportunity, to move forward, of new plans and strategies, and an enriched future for the Federation.
This, as you will have noticed, is also a time of reflection, renewal and rebirth, for the NFWI as it lays bare its blue-sky thinking to members' scrutiny and launches its new Vision for the Future under the headings of Bold, Growing, Inclusive and Flexible. Many of you will have heard the NFWI Chairman Lynne Stubbings' impassioned speech at our recent ACM. Please respond to the consultation if you have not already done so.
Will this also be a time of change for you? For your relationship with the Federation? Might you surprise yourself? Might you join this band of women? The Federation invites you to engage and expand your horizons! Will you participate in a Federation event this year? Will you learn a new skill through one of the many cookery and craft workshops? Will you step up and volunteer at Federation level? We currently need:
A Publicity Officer
ACWW Representative
Human Resources lead
An IT Champion
Will your name become attached to one of these roles? I do hope that you will meet the challenge, you are most welcome. The Federation is your oyster.
Carol A. Gartrell, Federation Chairman