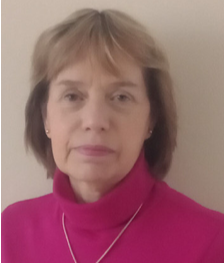 Meet Ruth, the newest member of the BOT
Ruth Williams, who has just joined the Federation's Board of Trustees, has been a member of the WI for over eight years, firstly with Ewell Court and then Stoneleigh where she has been President since 2017. 
Ruth grew up in Fulham and went to school in London. Her working life was in marine insurance as a Lloyds broker, when women were in the minority, and then in the legal world as a fee earner with London solicitors in the litigation department. 
Ruth is a member of the Arts Society and volunteers as a church Recorder. She spent many years with amateur dramatic companies, sourcing, making and managing props. She enjoys a variety of crafts and says she loves a new challenge. She is researching her family tree, learning French and re-visiting Russian, keeps fit with pilates and has added more walking to her regime. And she admits she never resist a rummage in an antiques shop! 
Ruth says: "I very much value the WI, and am proud to have been co-opted to the Board of Trustees. I am looking forward to this next chapter with the WI."