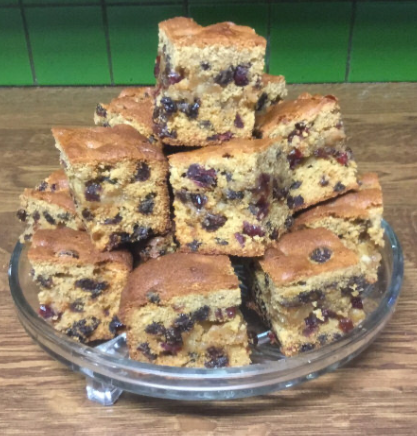 Give this Easter classic a try – Simnel Traybake
Try this Easter recipe — selected by Betty Dominy, chair of our Home Economics, Craft and Gardening Committee. Simnel tray bake (pictured) as tested by Barbara Cavalier. 
Originally Simnel cakes were baked by girls in service to take home on Mothering Sunday. It is now more usual to eat them at Easter with eleven almond paste 'eggs' on the top rep- resenting all the Apostles except Judas. 
Ingredients
150g butter, softened;
75g light muscovado sugar;
75g dark muscovado sugar;
2 tbsp golden syrup;
4 medium eggs, beaten;
200g plain flour;
1 tsp baking powder;
1 tsp mixed spice;
zest of one lemon;
350g mixed dried fruit;
200g white or yellow marzipan;
3 tbsp jam; and
icing sugar.

 
Method
Preheat the oven to 180c/fan 160c/gas 4. Grease and line a 7in square tin.

 

Sift the flour/baking powder and mixed spice together. Put the butter, sugar and syrup in a mixing bowl and beat until light and fluffy (by hand or mixer).

 

Gradually add the beaten eggs, adding a little flour if the mixture starts to curdle. Stir in evenly the flour mix, lemon zest and dried fruit.

 

Spread half the cake mix evenly across the bottom of your lined tin. Coarsely grate the marzipan over the mixture and even out. Cover with the rest of the cake mixture and level the top.

 

Bake for 30 – 45 minutes or until just firm to the touch.
Cool in tin for 10 minutes then put on a cooling rack to get cold. When cold dust with icing sugar.

 

The cake can be decorated as follows:

Warm the jam and glaze the top of the cake. Lightly dust your work surface with icing sugar then think roll out the marzipan. Cut into 5mm strips and weave over the top of the cake to make a basket effect.
Or: glaze the top of the cake and roll out the yellow marzipan on a surface dusted with icing sugar. Cover the top of the cake with the marzipan and decorate for Easter.

The pictured cake (above) was left undecorated and cut into 16 portions.