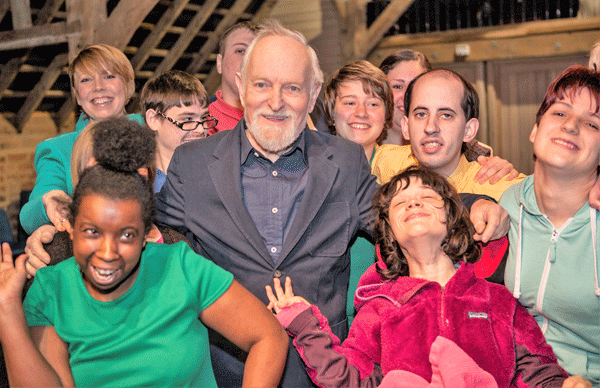 SUNDAY 15 March 4.30P.M.
MEETING CANCELLED FOR EVERYONE'S SAFETY.
If you see this and know of anyone else who may have planned to attend, please let them know
A group from the Surrey-based Orpheus Centre will entertain members at our Annual Council Meeting at Dorking Halls on Monday, 16 March.
Orpheus is an independent specialist college that believes every young disabled person should have the same opportunities as their non-disabled peers and offers a personalised study programme focusing on building independence, communication and social interaction skills through the arts, supported housing and a personal care service.
Music weeks for disabled people piloted by Sir Richard Stilgoe and neurologist Dr Michael Swallow in the late 1980s were so effective that Sir Richard decided to found a place where disabled people and students could work together for longer than a week, creating new music and performing in public. The Orpheus Centre opened in 1998 at Sir Richard's former family home in Godstone. Today it caters for 25 full time and 25 day students.
Its students have performed in venues all over the country, and appeared in the hit TV show Call The Midwife. Ann Lovelace, a volunteer with the centre, will tell stories of Orpheus and introduce alumni who will perform their chosen songs.
Book a ticket for the Annual Council Meeting.