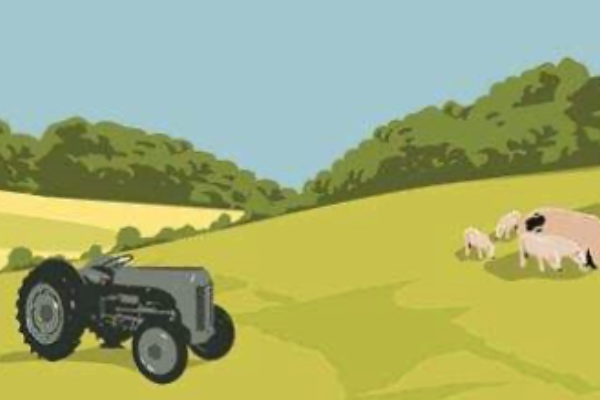 Come for a virtual tour down on the farm 
Some of you will have met farmer Ian Jones when he came to our Farm to Fork presentation at Great Bookham last July. Now Ian is inviting you to visit his farm — virtually of course — set in the beautiful Surrey Hills near Dorking — for a tour and talk, Farm to Fork — Adapting to Survive a Pandemic. 
Two dates/times are available: Thursday, October 15 from 10.30am-12noon and Friday, October 16 from 2.30pm-4pm, both via Zoom. The cost is £3 for each event and you can book online via Eventbrite. 
Ian Jones left a senior role within the hotel industry in 2018 to set up Hill House Farm with his father, rearing pedigree free range Gloucester Old Spot pigs and Southdown sheep. They quickly established themselves as a leading light in the Surrey food scene, picking up multiple awards and supplying homes, hotels, restaurants and retailers, as well as developing a successful outside catering arm using their farm produce. 
2020 was budgeted to be their bumper year, with a growing list of wholesale customers and multiple events booked for their catering operation. 
Then on Thursday, March 18 everything changed. The hospitality industry closed, all their events were cancelled and their customers were forced to close their doors overnight. 
Having invested heavily in the business, Ian and his father were not willing to roll over in defeat. Four days later Ian had created a catalogue of products for home delivery, partnering with a local dairy and artisan baker. Working off the backs of envelopes, 
emails and telephone calls, they quickly developed a home delivery business, supplying hundreds of homes in Dorking and around the whole of Surrey. 
By May they had launched the online farm shop, which now has over 240 products from 18 carefully selected farmers and producers from Surrey and Sussex and have developed a successful mail order business sending gifts and hampers of Surrey produce to homes all over the country. 
As butchers and chefs, with decades of experience between them, they work hard to prepare their produce to the same high standards you would expect in any high- end establishment. 
Ian will show you around the farm, the food production facility and talk about their ethos as farmers and food producers and give an illustrated talk on butchery, using a variety of cuts that can offer great value, including the cheaper cuts of meat. There may be an opportunity to ask questions.
Meriel Sexton, Vice Chair, Home Economics Committee