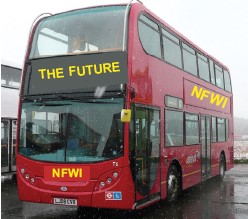 NFWI publishes bus survey report
THE NFWI has published a report entitled A New Route for Bus Services, based on information submitted by WI members.
The report aims to help build an understanding of the impact of cuts to bus services on women and people living in rural areas. In particular, the report explores a significant reduction in local bus services impacts on mental health, isolation and social exclusion, and sets out recommendations for  future action.
The report is part of the WI's Get on Board campaign. Launched in 2019, the campaign calls on the Government and local authorities to increase subsidies and work in partnership with bus companies and community transport operators to enable an adequate provision of services.
The report found that:
* There is a need for a higher frequency of bus services in rural areas. Whilst the funding pledged by Government to overhaul bus services is welcomed, we need to ensure funding for local authorities is ring-fenced, sustainable and long-term to guarantee a minimum frequency of bus services for towns and rural areas and to enable local authorities to start planning for the future.
* Rural areas should receive an adequate share of the £3 billion investment proposed to ensure they receive the support they need. Considerations made to modernise the Bus Services Operator Grant must include additional amounts given to rural areas as well as new incentives for demand responsive transport.
* Bus services must be responsive to the needs of women. The Government, local authorities and transport operators must consider the needs and travelling patterns of women in all future transport policy and developments, including Bus Service Improvement Plans, which will need to be published by Local Transport Authorities by October 2021. The Government must also do more to ensure women are represented at decision making levels for transport planning, including on forums such as Bus Advisory Boards and through the Transport for Wales Advisory Panels.
* Bus services need to be better integrated with other transport networks. The Government must ensure that Bus Service Improvement Plans prioritise the integration of bus services with rail and other transport networks in order to increase the appeal of buses as an alternative to car usage.
* Investment in more regular bus services is necessary to create a modal shift away from dependency on cars for environmental reasons.
The Government's announcement to invest a further £120 million in zero emission buses is welcome. However, the Government must ensure that this investment is not limited to buses for towns and cities, but also supports services in rural areas that suit the needs of these residents. Plans to modernise the Bus Services Operator Grant must include incentives for the take up of zero emission vehicles suitable for meeting the needs of all communities.
WI members' responses to the survey showed that:
46 per cent said access to basic services had been negatively impacted by a reduction in bus services.
37 per cent said access to health services had been negatively impacted by cuts to bus services.
19 per cent of respondents in rural areas said reduction in bus services had negatively impacted their mental health
72 per cent of all respondents said cuts to bus services had increased their dependency on car use and relying on friends and family
50 per cent of all respondents said they would use the car less if they had access to a frequent, reliable bus service.
The NFWI is asking members to use a template letter, which can be downloaded from MyWI, and email local councillors asking them to support these recommendations and implement them in Bus Service Improvement Plans, which will need to be published by Local Transport Authorities by October 2021.
back to News