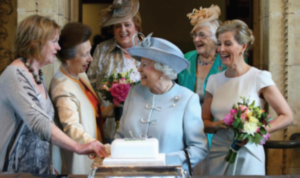 The Eileen Bowler Competition, 2022:
Two chances to celebrate The Queen's Platinum Jubilee
NEXT year Her Majesty The Queen will celebrate her Platinum Jubilee — 70 years since she ascended to the throne on February 6, 1952. To mark this very special occasion, our Eileen Bowler competition will consist of not one but two competitions.
Schedule 1
You are invited to write a reflective essay entitled Queen for a Day in not more than 500 words (the same length as for the Lady Denman Cup).
Entries should be posted or emailed to SFWI HQ by Friday, January 28, 2022.
Schedule 2
This is your chance to design a card for Her Majesty "on the occasion of her Platinum Jubilee" on behalf of Surrey Federation. Your card can be completed in any way you wish but will need to be of a suitable size to be sent by Royal Mail —A5 or A4 or anything in between.
Platinum Jubilee card entries should be posted or delivered to SFWI Headquarters by Friday, January 21,2022.
The Queen for a Day winner will be announced at the Annual Council Meeting in March. If you would like guidance on the marking scheme that the judge will use, you can book a place on the essay course at our On with the Show event (see below).
On with the show!
Wednesday, October 6 – SFWI HQ, 10am-noon – 1pm-3pm.
DO YOU need help and advice for entering classes at shows? Perhaps you feel there's no point in entering them because others are better than you! And if you do enter, do you wonder why you don't score higher marks? Would you like to find out what judges were looking for when they choose the winner?
YES!
 We are offering members two half-day workshops at our Guildford HQ to assist, guide and encourage you to enter our competitions.
The day will be divided into four sessions: cookery and preserves in the morning and crafts and essay writing in the afternoon, and will focus on the 2022 Eileen Bowler Competition (see above for details), and the WI classes at the 2022 Surrey County Show.
The classes include a Victoria sandwich, a bottle of cordial, a knitted item, a crocheted item, a dough model, an item of jewellery, an item for a baby and two or more dressed peg dolls.
The schedule can be found at https://surreyfedwi.org.uk/whats-on-2-2/agricultural-shows/ (scroll down to Surrey County Show and click on Schedule 2022).
The tutors (who include a couple of trained judges) will talk you through how to gain marks in competitions. You will also have the opportunity to have a go at judging items for yourself.
Members may apply to do either the morning or afternoon sessions, or both, and will be given a printout of On With The Show, the WI's comprehensive guide to competing which tells you all you need to know. Our website, www.surreyfedwi.org.uk also contains a link to the booklet.
The cost is £5 per half day session (£10 whole day). Tea/coffee will be available but you will need to bring a packed lunch if you are attending both sessions.
The closing date for ticket applications is Friday, August 27. Apply via our website (www.surreyfedwi.org.uk) or by email to the office, following the ticket application instructions on Page 23 of SWIN or by post by filling in the application form on that page.
Home Economics, Craft and Gardening Committee