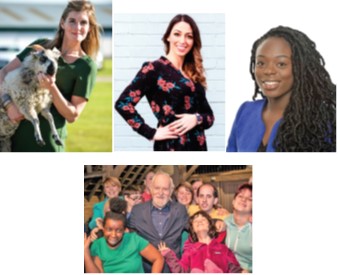 AUTUMN FEDERATION MEETING: MONDAY, 18th OCTOBER 2021, DORKING HALLS
Meeting starts 10.15am. Tickets £16. closing date Friday, 3rd September book online via our website or by email/post via form on p23 of Swin
It must be third time lucky!
POSTPONED from March 2020, postponed again from October 2020, it must be third time lucky for the speakers we have had booked for so long!
Amanda Owen needs no introduction to fans of the Channel 5 series Our Yorkshire Farm, the story of life with her husband Clive and their nine "free range" children at remote Ravenseat Farm, high in the Yorkshire Dales. Snow, hail, gales, whatever the weather Amanda, Clive and the children are out there battling the elements to earn a living from their thousands of acres of moorland — a scene of incredible beauty but which can be cruel and hostile.
Alieda Moore is Deputy Agent for Greater London at the Bank of England. Her job involves acting as the Bank's eyes and ears to connect bank policymakers with London businesses and communities. She gathers business intelligence to inform monetary and financial stability decisions, such as the setting of UK interest rates and acts as a public speaker, explaining the bank's policies to businesses, local communities and schools. It will be interesting to hear what she has to say about the effects of the Covid-19 outbreak on Britain's economy Alieda graduated with a first class Honours Degree in Economics from Loughborough University and previously worked as a consultant at Deloitte and intern at Goldman Sachs. She started her career at the Bank of England as a senior analyst, leading on  numerous work streams in preparation for a live bank failure.
Alieda is co-chair of the Bank of England Ethnic Minorities network and led on a successful launch of a new strategy that focuses on further senior engagement on Black, Asian and Minority Ethnic (BAME) issues and initiatives, aimed at making the network more inclusive to BAME and non-BAME staff. She is a mentor to one of the Bank of England African-Caribbean scholars and has also sat on the Steering Group of the Women in the Bank network.
Entertainment by students from Orpheus
THE Godstone-based Orpheus Centre was founded by Sir Richard Stilgoe. It is an independent specialist college that believes every young disabled person should have the same opportunities as their non-disabled peers. It offers a personalised study programme focusing on building independence, communication and social interaction skills through the arts, supported housing and a personal care service.
Orpheus students have performed in venues including the Royal Opera House, Royal Albert Hall, Glastonbury  Festival, Notting Hill Carnival, the Paralympic Opening Ceremony and the Royal Festival Hall and appeared in the hit TV show Call The Midwife. 
Ann Lovelace, a volunteer with the centre, will be telling stories of Orpheus and introducing alumni who will perform their chosen songs.
back to News